New York City is much more than just a city. Hence, many travellers across the world visit New York City repeatedly to make the most of the unlimited experiences they can get here.
While New York City has this fast pace vibe to it the city offers a lot more than you think. If you want to put your feet up and relax you can do that here. On the other hand, if you are seeking fun and adventure you can go outdoors and explore the city to make the most of it.
If you are looking for more outdoor adventures in New York City or visiting the city for the first time here are 9 fun things to do in NYC for outdoor enthusiasts.
What to do in NYC if you Love Being Outdoors?
Visit the Observation Decks
One of the most popular outdoor activities you can do when you are visiting New York City is visiting various observation decks. This is a great way to enjoy the panoramic views of the urban landscape from different perspectives.
There are five observation decks in Manhattan which include the Empire State Building, SUMMIT One Vanderbilt, The Edge, One World Observatory and Top of the Rock. You can enjoy a stunning sunset from the Empire State Building which would ensure you a great experience.
Take the Cruise Tour
When you are done exploring the panoramic views of the city from the top it is time to change the perspective. You can take the cruise tours which not only offer you a great view of the city from the sea but also take you close to view the iconic Lady Liberty statue on Liberty Island.
This is one of the popular outdoor fun things that most people do when they are exploring the city. Also, you may want to climb the crown and explore the view from there but you will need to book tickets in advance for it.
Watch an NFL Match
If you are into sports you can buy a ticket and watch an NFL match at New MetLife Stadium near New York City. This is a great outdoor activity where you can cheer the local teams with passionate locals rooting for their home teams.
American football is a lesser-known sport for tourists but not for passionate locals, since it has niche appeal and might initially bore tourists. It's still worth exploring it while you're in NY, though!
There are two local teams: the New York Giants and the New York Jets. Both teams play the NFL in New Jersey at New Metlife Stadium.
Due to its popularity, you can enjoy a good game of football, interact with fans, and learn more about wagering your favourite teams NFL odds which enhances the overall experience of watching the game.
Other popular stadiums are Meadowlands Sports Complex and East Rutherford, NJ. 
Walk in Central Park
One of the best and easiest ways to make the most of your New York City trip is to take a walk in Central Park. This is one of the major and popular parks in the city and if you are running out of ideas on what to do in NYC you can put on your walking shoes and explore this green space right in the middle of the city.
With many manmade lakes, playgrounds and lakes, Central Park is a great place when you are visiting the city solo, with your partner or with kids. The park is also home to Central Park Zoo, Belvedere Castle and the Central Park Conservatory Garden.
Go Museum-Hopping
If you are into art, New York City has you covered with plenty of museums that would be a great experience. This is a fun outdoor activity which allows you to explore and admire some of the best artwork you can find in the world.
To make it even better some of the biggest museums offer free admission hours on Fridays allowing art lovers and museum enthusiasts to explore some of the top museums like the Fashion Institute of Technology Museum, Museum of Modern Art (MoMA) and even the Museum of the Moving Image.
Explore Unique Neighbourhoods
New York City has remained a melting pot of different cultures and therefore it is likely that you will find neighbourhoods that reflect different cultures from around the world. Chinatown and Greenwich Village are among the two most popular unique neighbourhoods where you can find yourself in a different environment.
While Greenwich Village instantly gives out a more European feel, Chinatown, on the other hand, reflects the bustling and vibrant Chinese culture in Lower Manhattan. While you are walking through these streets you can enjoy local meals and buy products that are hard to find elsewhere.
Enjoy Helicopter Rides over NYC
If you are looking for adventure you can look for various tour operators who would offer you helicopter rides over the city. This is one of the best ways to enjoy panoramic views of the city and the iconic Statue of Liberty.
These helicopter rides take you around the city offering you some of the best views of One World Trade Center building and many other popular attractions in the city.
Hangout at Rooftop Bars
Finding a rooftop bar is quite easy in New York City because there are plenty. If you are looking for some outdoor time you can enjoy some foot-tapping music, chilled vibes and an excellent food and cocktail menu when you are visiting any of these rooftop bars.
If you want to make the most of your nightlife in New York City these rooftop bars can provide you with an experience like no other offering you the best sunset views in New York City.
Shop and Eat
New York City is a shopper's paradise and when you are in the city you can find ample shopping streets and malls where you can shop till you drop.
You can shop at Macy's, Brookfield Place and Bloomingdale's or you can walk down North of Little Italy for some unique boutiques. If you are looking for some excellent bargains you can explore Canal Street and West Village where you can shop for a wide range of products.
New York City is also known for its food markets and therefore you can visit the Union Square Greenmarket, Chelsea Market and Smorgasburg open-air food market which is an excellent space for the foodies.
So this was my handpicked list of fun things to do in NYC for those who love being outdoors.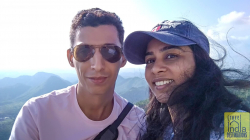 Latest posts by Sharukh Bamboat
(see all)